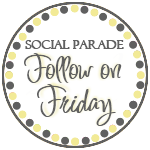 We are participating in Social Parade Follow on Friday this week! We love new followers and we hope to meet new followers! Come join the fun and link up to meet new bloggers!
Please follow us. Leave a comment that you are. We will then come follow you back!
Thank you everyone for following us! Please keep an eye out for upcoming giveaways here!
Happy Friday!